So you want to submit a Help A B2B Writer (HaB2BW) request, but you're still new to it all. Welcome. You've landed exactly where you need to be.
Once you've read this guide, you'll know how to leverage HaB2BW to create original content with more credibility and expert sources. You'll go from writing bland pieces that don't bring anything new to the table to writing well-rounded content that does its job (and then some).
Here's what you'll learn:
The pros of sourcing unique quotes for your article
There are myriad ways to make your writing stronger—we're talking updated stats, screenshots, or in-depth interviews.
One effective way to strengthen your writing without having to spend hours interviewing experts is to take the time to source quote requests with tools like HaB2BW. Yet saving time is only one perk of many.
Improve credibility
Sourcing a request means your written piece is backed by expert insight. It increases the credibility of your writing, and your finished piece won't blend in with a sea of content full of pieces that read like photocopies.
However, improving credibility isn't only about including updated statistics or providing screenshots of examples. It's also about including relevant expert insight you wouldn't find with a simple Google search. 
"The best way to add credibility to any piece of content is to include a third-party source. Insert a quote from an expert or cite some data. It's that easy."

Melanie Deizel
Help with distribution
Something else sourcing requests help you with? Distribution.
Once you've included credible sources in your piece (and you let them know), they're more likely to share it within their own network. The more relevant sources you include, the wider your writing can get distributed.
Less pressure to write more
Including quotes also takes away some of the pressure of coming up with valuable words yourself. It's an effective way to bump up your word count while filling your writing with meaningful insight and less fluff.
If you're struggling to eliminate fluffy writing, consider taking the time to send a request and get insight on the topic at hand. Receiving answers to your request works in your favor two-fold: You could receive a quote worth incorporating into your content, or you come across across a point you hadn't thought about that's worth expanding on.
Add unique perspectives
Writers have the ability to feature businesses and people in a way that goes beyond the basic example you can find with a quick Google search. Requesting insight from industry experts adds a unique perspective to your writing that can't easily be replicated.
Importantly, the diversity of unique quotes in your article make it that much more appealing to an audience that's already inundated with content. In a world of SEO-optimized content that blends in, sometimes shining a light on a unique expert take is what truly makes your piece memorable.
Turn sources into clients style
Wouldn't it be nice to land clients simply by completing work for your existing clients? You can leverage source requests to do that.
Source quotes from clients you want to work with so you can then share your published work with them. Not only will you get on their radar, but if the article is impressive, they might just hire you for a job in their pipeline.
How to submit a request
So, how do you submit a request? Here's a breakdown:
Complete the submission form and enter the basics: Your name, email address, and publication.


Add a concise, one-sentence summary of what you're looking for. Here's an example: "Looking for social media experts to share their experience with Facebook ads."


Under Description, enter a little more about the type of quote you're looking for as well as the type of expert you'd like to contribute. Remember: It helps to be specific. 


Pick your industry by selecting an option from the dropdown menu.


Do you want your request to be broadcast on the HaB2BW Twitter profile? Pick an option from the dropdown menu and add your Twitter handle right under it.


Set a deadline for your request. In our experience, it's best if you allow for at least three days for sources to get a chance to respond. (Hint: This means you'll want to plan ahead to send out requests so you can receive responses on time to meet your own client deadlines.)


Finally, if your request is urgent, tick the box to let us know.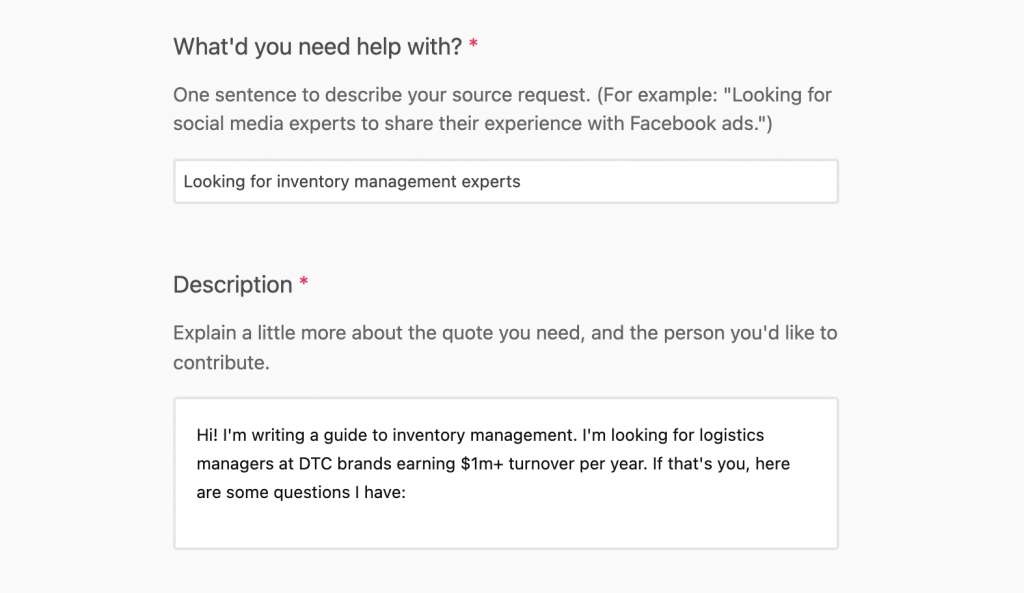 What makes a good request?
The devil's in the details when it comes to optimizing your submission for the best results possible. You can write any request, but if you don't phrase it the right way, you won't get quotes from people you need.
So if you want to send a solid request that'll maximize your chances of getting the best responses, keeping a few key points in mind will help.
It explains the type of person you want a quote from
Who is the ideal person you want to source responses from? Don't be afraid to get specific. It helps to also be explicit about whom you can't quote.
Here's a good example of a request from a writer outlining from whom they can't include sources: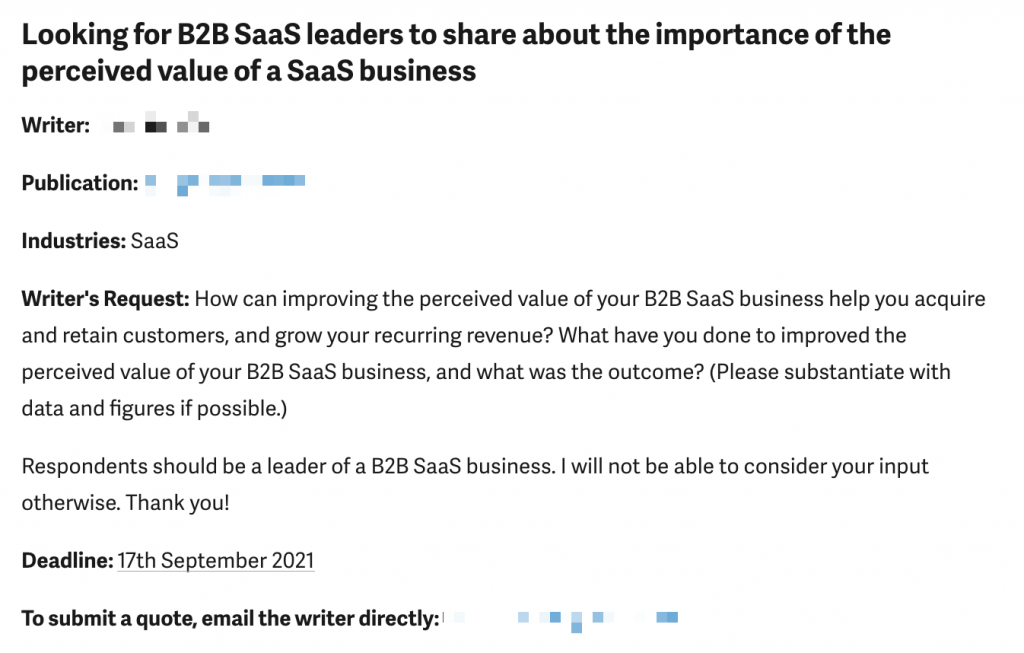 On the other hand, here's a good example of a source request outlining whom they can include. Notice how it includes specifics like annual revenue numbers as well as what industries are preferred.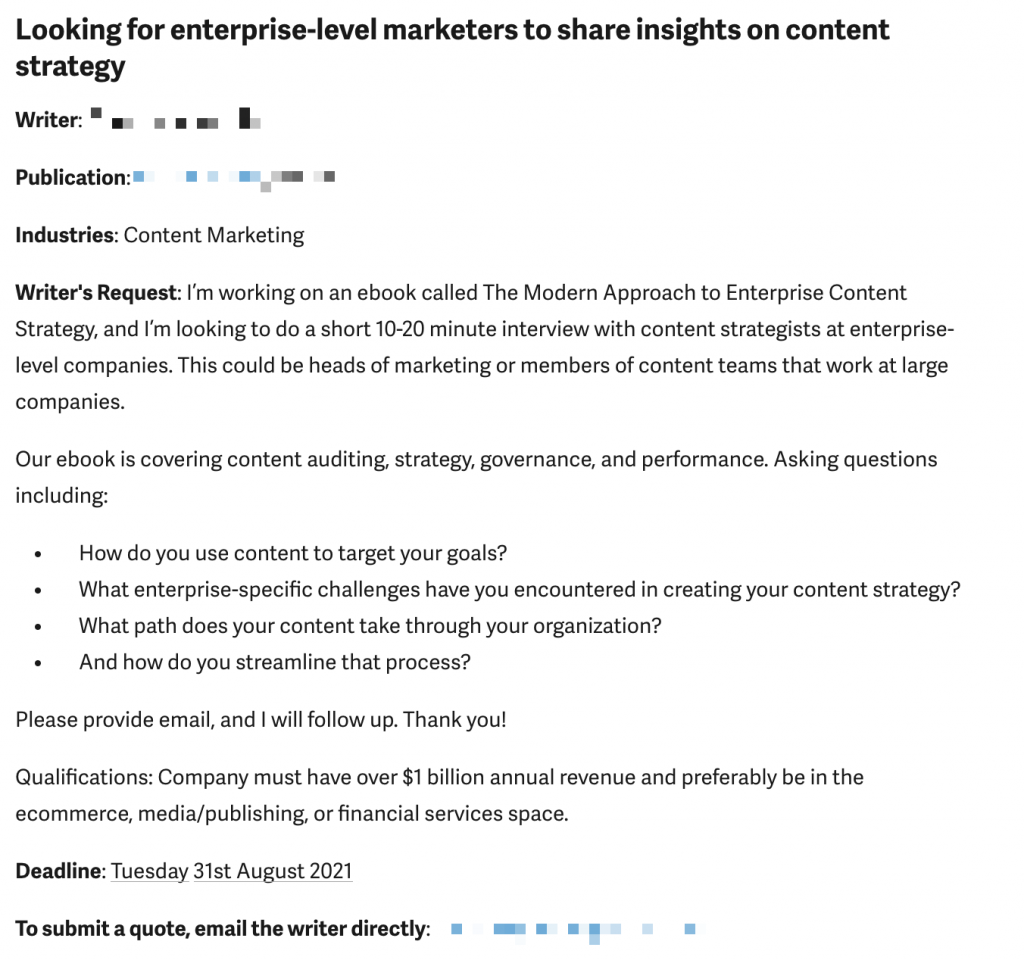 It's specific about what quote you're looking for
Look at your blog post outline and see which sections would benefit from a quote. Is there a section that would best be illustrated by a first-hand quote on the topic? 
"There's nothing worse than a fluffy quote. So to get meaty responses from my requests, I focus on well-rounded questions to make storytelling easier. For example, what methods they use, why they chose the method, what their results were, what mistakes they made, and one tip they'd provide to others wanting to achieve great results."

Saphia Lanier, freelance writer
(See what we did there?)
Here's another example. Instead of entering, "Looking for tips on how to optimize a product page," go with a more specific ask like, "Looking for eCommerce companies that have changed their product page layout and saw results."
Choose the right tags
Choosing the right tags adds another element of specificity. For example, if you're looking for a finance expert to comment on SaaS pricing tips, choose SaaS and finance.
That way, only people subbed to both tags will get that request (not those just subbed to one). This reaches a specific type of person, and you spend less time digging through responses you can't use. This saves both you and your potential sources time.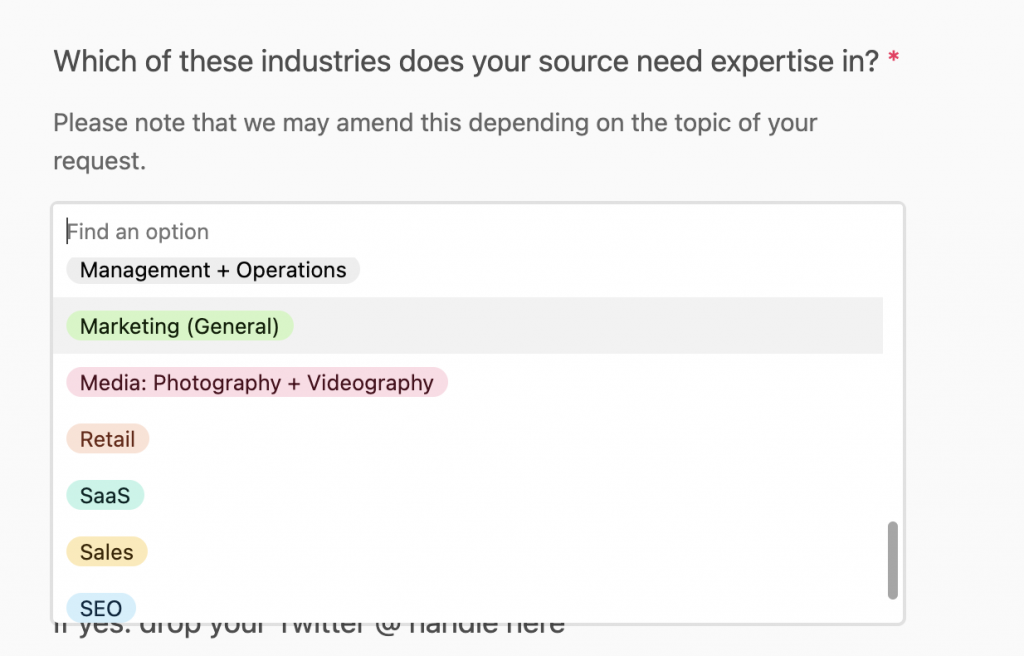 It isn't too much of an ask
Sources may be less likely to submit a quote if it takes them 30 minutes to do so. If you think about it, there's a risk that their quote might not be used. That's 30+ minutes of time wasted.
"Make sure the request is concise—not too open-ended and easy to offer a quick response. If you need a longer response, people are more likely to put it to the side and accidentally forget about it (I've done it!)." 

Alex Boswell, freelance writer
Plan ahead by giving a handful of prompts, but clarifying that not all of them require answers. You can always follow up with a promising source if you want to dig deeper into something they mentioned.
Here's a great example. Notice how the requester highlighted that not all questions required answers.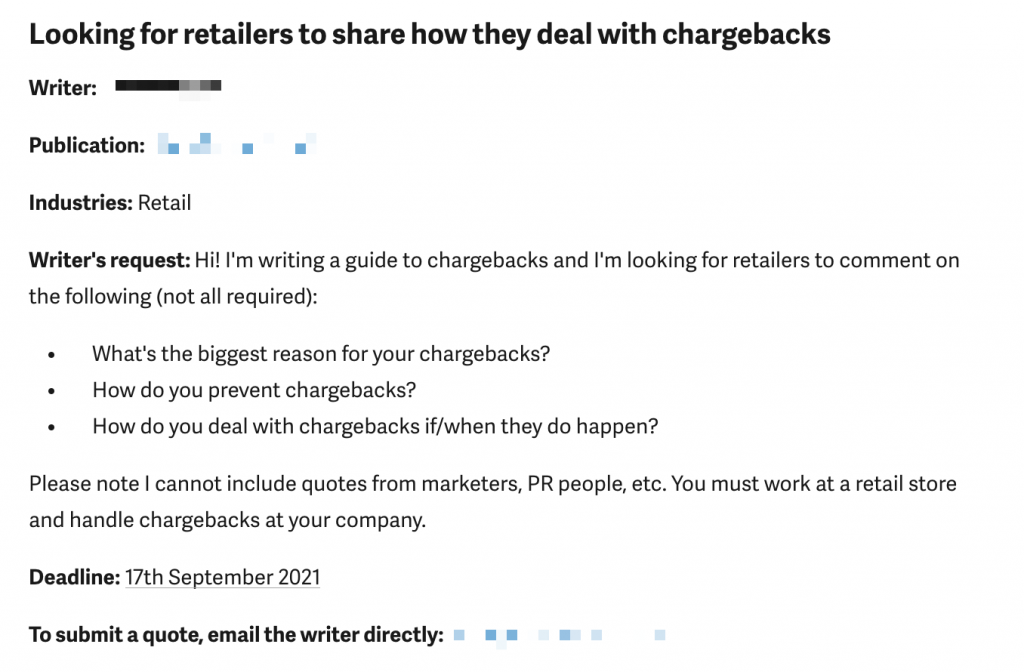 It explains what a source gets in return
Including an incentive always helps because of the science of reciprocity. It's what happens when we exchange things with other people in a way that's mutually beneficial.
What are your sources potentially getting in return for taking the time to provide good insight? Are you including a link to their LinkedIn page or company profile? Ideally, you'll offer a link to their site for SEO reasons. Others prefer the personal credibility.
To make sure you're both on the same page, ask them to include what they prefer in their response and to provide the corresponding information. Just make it clear that this isn't guaranteed; editors have the final say over how a source is credited.
Bonus writing tips for working with sources
There are the sourcing quotes to take care of, sure, but there are also some things to watch for when managing sources and adding them to your article in a way that fits your narrative. Here are a few to be aware of.
Check for conflicts
While it's always helpful to learn and share insight with the communities in your industry, don't include quotes from competitors in your writing. If you work for a marketing agency, for example, don't quote the marketing director from a competing marketing agency (though it might seem tempting if the quote is really good!).
This concept applies to niches, too. If you're writing for an eCommerce audience, it wouldn't be helpful to include quotes from an expert in the SaaS industry.
Ideally, you want to choose either the most credible person or the person contributing a quote that best aligns with the point you're trying to make. 
It's never a good idea to include quotes for the sake of a quote. If you did a solid job being thorough, specific, and concise with your request, you should get a handful of helpful sources to choose from.
Don't be afraid to cut out what doesn't fit your narrative
Sometimes you'll receive a quote that's generally useful, except for a few sections. This is where it's key to remember you can always remove part of a quote—but never add anything new.
You can break a quote down, add your own content in between, and insert other parts of the quote where it makes sense to. This weaves in the quote with your narrative and strengthens the flow of your pieces. 
Expand on a quote when necessary
Sometimes a quote is solid and helps you make your point. Other times, it can be worth it to reach out and ask for additional clarification or ask them to cover a point that was missed.
While this isn't necessary for each quote you feature, it can be a way to strengthen your piece's narrative and solidify your point. For instance, if you're writing a piece on Instagram marketing and a source mentions they've successfully used a strategy to grow their audience, reach out and ask them to expand on their results. Including the added information enriches your piece with specific points that strengthen your argument.
The more in-depth insight you can provide—not only by doing plenty of research, but by illustrating points with specific real-life examples—the stronger your writing will be.
Send your next source request today
You've made it to the conclusion? Awesome. You should be well versed in what it takes to send a solid writer request to receive solid answers.
Sourcing quotes is a skill you'll naturally develop over time if you keep reaching out and making connections with experts in your industry.
Ready to get started?
Responding to a Help A B2B Writer request is a great way to build your personal brand, increase credibility, and strengthen your SEO efforts. More backlinks and exposure can also lead to more revenue for your business.
Yet to get results, you need to nail your responses to writer requests. Poor, half-thought-out answers that only address part of the question result in time wasted and no exposure.
This guide is built to change that. Here's what you'll learn:
Why respond to writer requests?
You might be wondering if taking the time to respond to writer requests is worth it. The short answer is yes. Here's why.
Get links
Links are gold in the online world. They add brand credibility and help your content rank higher in search engine results. Responding to writer requests is a cost-effective way to win credible links that point back to you.
Getting links back to your company website, personal site, or LinkedIn profile not only helps strengthen your SEO efforts, but saves you money in the long run.
Building backlinks to your content tends to bring in organic traffic over time. Build enough backlinks and you won't have to spend as much money on paid traffic options.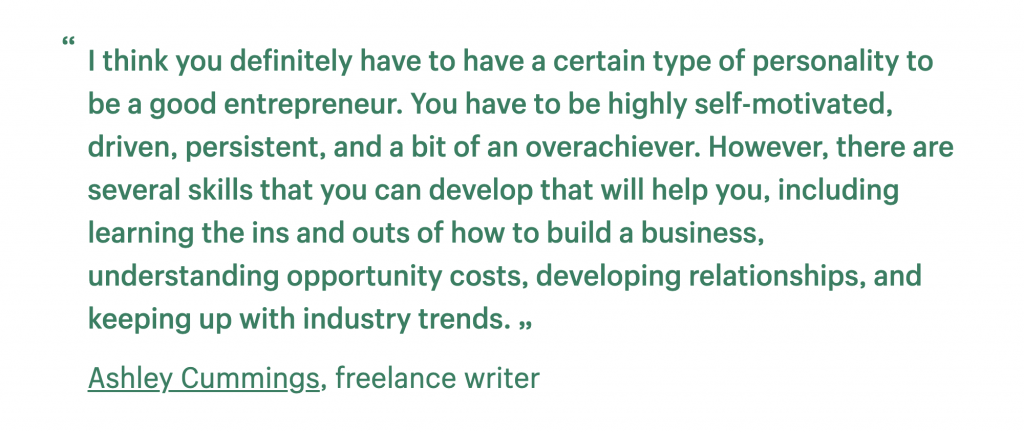 Ashley Cummings secured a link on a DR 95 website by contributing a quote through HaB2BW.
Improve credibility 
The currency of online credibility can be boiled down to a few things, including:
How well-known you or your product/service are
Whether reputable sites point back to you
While links can be expensive to pay for, responding to writer requests can be a way to win consistent backlinks organically while improving credibility.
Fill your social media queue
Maybe your business doesn't publish much content. You can still respond to writer requests to gain credibility on your social channels without investing hours into content production. Respond to a request, get the shoutout, share the work once it's published, and get a kickback from that.
How to find writer requests
If you're new around here, Help a B2B Writer (HaB2BW) is a free tool for B2B marketers and writers. It's a way to ensure you're receiving requests from niche-specific content writers who are looking to feature your expertise in the B2B space.
HaB2BW is used and trusted by:
Founders and CEOs
Marketing directors
Content marketers and strategists
Freelance writers
PR folks
6 tips to make sure your quote gets included
Responding to a request is one thing. Optimizing your request so you increase your chances of being featured (and winning that link!) is another.
Here's what you need to pay attention to when responding to a source request.
1. Read the request properly
Common sense, right? Except not reading requests properly happens all the time. Even more so when you're in a hurry.
We've lost count of how many people have responded to requests with irrelevant information even when the requests specifically state what type of quote was needed. Writers are often under strict writing guidelines when working with clients; some editors only accept quotes from specific types of experts.
If that's the case, the writer will explain it in their request. Avoid responding to it if you fit the "can't include" criteria. It's a total waste of your and the writer's time. Save your insights for a request from a writer who can actually include your response.
2. Only respond if you can demonstrate expertise
If you maybe know a bit about finance and have hypothetical advice to give, it's better to avoid it and focus on areas where you can demonstrate expertise.
Over time, writers build impressions about sources. If they know you're the type of person to respond to anything and everything, they see you as less credible. The result? They're less likely to include your quote in the future.
In short: Only respond to requests you know you're an expert in and can answer thoroughly. Your reputation will thank you, and your chances of being featured will increase.
3. Give the quote in the email
The fewer steps between you (the source) and the requester (the writer), the higher your chances of being featured.
No need to say, "My co-founder can speak on this! Here's his email address if you're interested," and then wait for a response. This takes too long. By the time you've tried to connect your co-founder to the requester, they've already featured someone else who included the quote in their response.
If your co-founder can speak on the request, forward the request email to your colleague and have them respond directly to the writer.
The fewer steps to give writers what they need, the better. 
4. Don't be too self-promotional
Nobody likes a used car salesman. That's exactly what you sound like when you're too self-promotional in your response. Writers see through requests where the source doesn't actually want to help make their piece better; they just want a shoutout.
Avoid doing things like:
Mentioning your product/service features (unless specifically asked)
Responding to requests you don't know anything about
Spending too much email space hyping up your brand/service instead of being concise
Mentioning irrelevant side businesses in hopes it's included in the quote
Remember: If your response is used, you still get a mention or link to your company as credit. No need to go overboard with the self promo.
5. Give screenshots and unique data if you can
Screenshots and unique data are for writers what catnip is to cats. We love it. Not only does it save time, it helps writers illustrate points with enriching add-ons, like relevant data and visuals.
"When you send a quote to a writer, your odds of being featured increase if you answer all their questions (increases the odds of at least one of your quotes being used); answer their questions thoroughly (no one-sentence replies–offer background and details); and provide examples (if you have screenshots, stats, or other data, even better!)."

Saphia Lanier, freelance writer
Say you're responding to a retail marketing tip request. Getting specific and providing unique data can look like: "This is the strategy that worked for us. After implementing it, we saw X% increase in foot traffic." Extra points if you include screenshots illustrating your results.
Pro tip: Never include responses as email attachments. Writers are wary of opening these; viruses can be buried in them. Instead, send a link or paste content in the email to be safe.
6. Share your preference on credit
Do you want a link to your LinkedIn profile? Your company website? Your personal brand site? Your Twitter account?
Sharing your preference as to how you want to be given credit helps. It's important to keep in mind, however, that a writer's hands are often tied with what they can and cannot do. Their editor gets the final say on how the writing is arranged–including which links get cut out.
When responding to writer requests, give your preference, but accept that sometimes the writer won't be able to accommodate them.
Get started responding to Help a B2B Writer requests
You're armed with all the know-how you need to get out there and start scoring valuable backlinks by becoming a source to B2B writer requests.
Now it's only a matter of investing the time to respond to relevant requests. Do this enough times and watch your credibility grow as your backlink profile gets stronger. Best of all, you don't have to spend a single penny to effectively leverage writer requests to meet your goals.
Ready? Register as a source for free below.